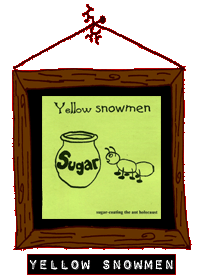 TMS-21

Yellow Snowmen

Sugarcoating the Ant Holocaust

CDR - $6 ppd.
Snow Day
No Brain
Talior-Made Metalhead
Little Criminal Baby
Suffocation
My Favorite Car
Here's A Song For You
Scrape
Asshole
Megan
You Make Me Hate You
Man With The Velcro Shoes
Maglight
Sweat and Lick
Close To Her
Long awaited new full length from Schiller Park's oldest resident with a The Tick figurine, John Ludwig. Chris on buckets, and Cadence at the helm, creates a memorable album you never heard but did. Thom plays mean ax on this of coarse.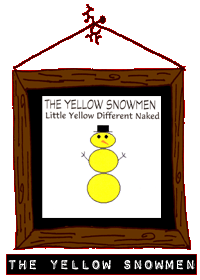 TMS-13

Yellow Snowmen

Little Yellow Different Naked

CDR - $6 ppd.
Coming Soon!
The debut full-length from this bunch of bandits that got away with playing the hell out of their songs till the ears bled of every person who knew the band personally. A classic album with no other way to describe it.