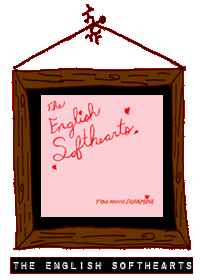 TMS-59

English Softhearts

Too Much Dopamine

LP - $10 ppd.
Wankers
There's Too Many Girls In The World For Me To Choose From
Clothes You Wear
Lips Go Round
Ewalution
Magnetic Forcefield of Love
Pharamones
Gotta Get Away
Stock On
Drums and Sing
Boomerang of Love
The debut album of the Chicago garage love rockers that made sure the stocker contingent in every major section was accounted for. Pure, joyous untainted raw garage pop for the average music fan with the case of the bums.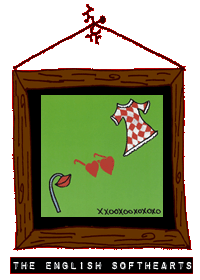 TMS-58

English Softhearts

Post-Nasal Drip

CD - $10 ppd.
Too Much Dopamine
Cold Cold Hearts
Don't Touch Me Alice
Dancin' w/Darlene
Another Speedball
Lustburger
Testosterones
This Magazine Sugar
Attn: Europe!
The offical follow up to their debut, this album gives new hope to the European jet setters who feel the American music scene is a good place to hang out. Speacial dedications to the higher appreciators of the rock scene. Still keeping the garage alive.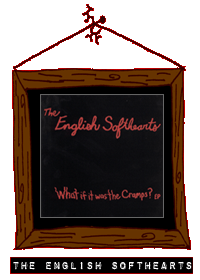 TMS-57

English Softhearts

What if it was the Cramps? EP

CD - $10 ppd.
What if it was the Cramps?
English Softhearts Theme Song
Girl of the North
I Want You
Radio Shock
Boomerang of Love (12" Dance Mix)
Lips Go Round (12" Dance Mix)
Too Much Dopemine tracks that were cut from the final release. These recordings were the result of "Too" many songs to begin with. Remixes that defy the laws of the modern dance floor.

TMS-56

English Softhearts

Blue Oyster Quilt

LP - $10 ppd.
Genital Herpes
Pants Fall Off
James
I Love You Like Drums
(New Wave) Testosternones
Clarissa Explains It All
Carol From Concentrate
Tony Golec
Hippy Hippy Shake
Human Connection
Barnyard of Dope
The album that meant a lot for the legacy of this Chicago garage love punk band. Tracks on this one give the Softheart fan promise to never give up the torch of rock, and to keep the eyes on the prize.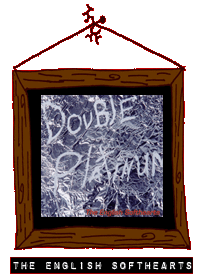 TMS-55

English Softhearts

Double Platnium

CDR - $6 ppd.
Romance, Intamacy
Rabel Rider
Nothin' Matters cept Ian's Happy
Babycakes
Charttoppers
I'm so ready I don't want to do it
Terrorist Toliet Paper
Narcissitic Narcaleptics
Cutie Can In Pink and Yellow
Top 40 Drum Sound
Still garage, still love, still punk, but just not as much to some people. That's alright, this album pays tribute and homage to the unlikely rockers: U.S. Maple, Melt Banana, and some other bands that like that.