TMS-14

Tribeman's Demos

1,2, & 3

CDR - $6 ppd.
A Boy Cried
Luxurious Cavities
Molasses Moe's Fault
Bike Ride Series:
A.The Search
B.The Day
C.The Night
Rich's first ever recordings with a 4-Track that reflect the time and space that was post 'greenhouse' pre 'fellows'. The improve technique carries over from the drum track, to the guitar track, to the bass track, to the vocal track. Completely original compositions if you could believe that.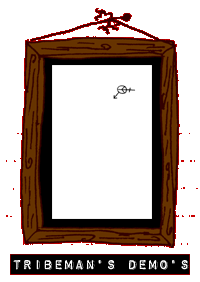 TMS-16

Tribeman's Demos

Senior Thesis

CDR - $6 ppd.
Deconstruction of Man
Lemon's Sour Taste
Underground Railroad
Lifeguard's Blues
Want To Make A Band!?!
The great release that redifined feminism for Rich. Giving a chance to feel the piece of metal that was the hi-hat, things started there and escalated rapidly until the death of the song was it's rebirth. Basically I need to write something here to make it look good, oh yeah the recording is good too. :)