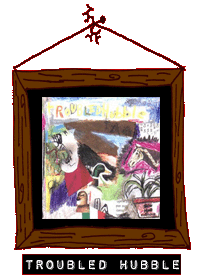 TMS-24

Troubled Hubble

Slow Plant Entrance

CDR - $6 ppd.
love, office supplies, and other simple things about life
horses
want to say
mean itallian ducks.
I like doing the marquees better than I like doing the garbage
where all the fast plants go
The most ground breaking duck rock this side of the pond. Guitar effects and compelling lyrics to tickle yr funny bone, and then make you cry. This release gives new hope the person who feels tired "working for the man". Now it's your turn; get up and dance!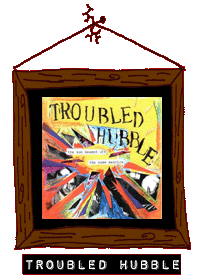 TMS-31

Troubled Hubble

The Sun Beamed Off The Name Maurice

CDR - $6 ppd.
I Love My Canoe
Cereal
Everything's Going To Be Fine (In Canada)
Transmissions From Fermi Lab
Meantime
Mean Itallian Ducks Pt. II
Your Song
Tyra's Prancing Ferret
Dr. Bones
Clothes
Lonesome Hawthorne
Phones
Fools for no time at all, TH decides it's worth it to make a new recording and they do so with the assistance of the studio they did record at before. Marc Sampson felt the warm breath of a duck at night flying over his studio so he decided to take in the canoe rowers. He said it felt good to be nature consceious.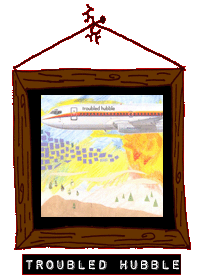 TMS-45

Troubled Hubble

Broken Airplanes

CD - $8 ppd.
Airplanes
Morning Person
Migraine
Mrs. Wiskerson
Fishin'
Duck vs. Man
Haircut
Lamp
Instamatic
How do You Sleep
Point at Your Shoes

Their most brilliant work to date, giving the TMS logo honor again, this time under a blanket of plastic a store would appreciate. Good times bring good albums like this one. That might not rhyme but hey why not agree with this anyway.